Table Tennis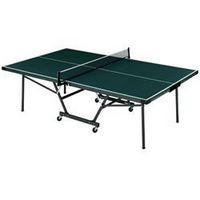 For the past few weeknights I have been pretty busy with Table Tennis. The madness for this game started at work a few months back, and we now play it very religiously. If it's 5'0 clock (thats the unwritten decency limit, any earlier than that and we might start seeing people complain, and eventually get the tables moved from the spot) then mobiles start ringing (with only a 3 second talk between the folks - Best of 5!), messages pop-up in instant messengers (which contain no more than 2 characters - TT). If these dont get the players up from their cubes, then it will be followed by challenges and taunts. We need to feed ourselves with this drug on a daily-basis, else the days feel quite empty! We bet on almost all things like the Xbox 360s or PS3s, each others' cars, next year's bonus and what not! But, sadly (sometimes fortunately) at the end of the game nothing really changes hands. It's all just empty words!
This week, I have started playing TT at my friend's apartment complex, which is right next to mine. This is, usually, in addition to playing at work. The workout in this game (though not apparent) is really good, if you play a lot of shots (or smashes). During my last visit to Madras, I got an assortment of good bats (Butterfly, Kung-Fu and Stiga) which has increased my interest for this sport.
Off topic, I am waiting for Parineeta to get released this weekend. The songs were really good - Music's by Shantanu Moitra (Raaga tells me that he is a newbie). Waiting for the next Rahman's music - Would it be Mangal Pandey or The Rising?
Next Post: About
S.Gurumurthy's
Speech.